Michelle Yeoh Choo-Kheng (born 6 August 1962) is a Chinese-Malaysian actress, best known for performing her own stunts in the Hong Kong action films that brought her to fame in the early 1990s. Born in Ipoh, Malaysia, she was chosen by People as one of the "50 Most Beautiful People in the World" in 1997. She plays Lotus in the Marco Polo tv series.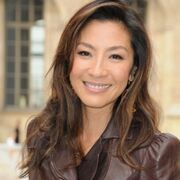 Appearances
She made her first appearance in the Christmas special.
Season 2
She made 5 appearances.
See Also