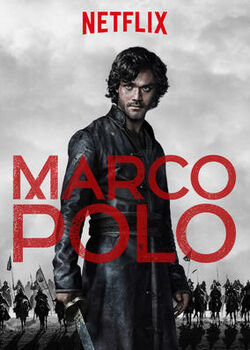 Marco Polo is an American drama series about Marco Polo's early years at the court of Kublai Khan.
Premise
Cast
Starring cast
Episodes
#
Image
Title
Release date
01
"The Wayfarer"
December 12, 2014
Marco Polo, a young Venetian trader, is abandoned by his father for the merchant Silk Road in the hands of the Mongolian emperor, Kublai Khan, who is at war with China. Kublai recognizes Marco's observation skills, and teaches him the Mongolian culture.
02
"The Wolf and the Deer"
December 12, 2014
At court, Marco learns more about the culture that surrounds him. In Xiangyang, Chancellor Jia Sidao aspires to control the new emperor of the Song Dinasty, but his ambitions are put to risk by the Empress Dowager's presence. Meanwhile, Kublai faces his brother's treason.
03
"Feast"
December 12, 2014
Kublai mourns the loss of his brother Ariq. He doesn't show up at the feast held in his honor by Kaidu. Mei Lin finds a way to get closer to Kublai. Marco meets Khutulun, Kaidu's daughter, and later fails to find the man who is receiving jewels from Kokachin.
04
"The Fourth Step"
December 12, 2014
05
"Hashshashin"
December 12, 2014
06
"White Moon"
December 12, 2014
07
"The Scholar's Pen"
December 12, 2014
08
"Rendering"
December 12, 2014
09
"Prisoners"
December 12, 2014
10
"The Heavenly and Primal"
December 12, 2014
11
"One Hundred Eyes"
December 26, 2015
A defiant warrior-monk arrives at Kublai Khan's court in chains and soon earns his tragic nickname in this 30-minute origin story.
12
"Hunter and the Sable Weaver"
July 1, 2016
On Prince Jingim's wedding day, Kublai receives disturbing news about the ambitions of his cousin, while Marco navigates a delicate mission.
13
"Hug"
July 1, 2016
Marco gets an unplesant surprise upon his return to Kublai's court. Kublai faces an impossibly difficult decision.
14
"Measure Against the LinchPin"
July 1, 2016
Haunted by recent events, Kublai journies with Marco into the mountains for answers. Empress Chabi takes action to insure an heir to the khan.
15
"Let God's Work Begin"
July 1, 2016
The Challenge for the throne escalates when two of Kublai's sons are endangered. Far away, another threat to the khan is born.
16
"Lullaby"
July 1, 2016
Rebel attacks flare up in the south and pull Kubali's attentaion away from home. Kokachin gets an unwelcome visitor from her past.
17
"Serpent's Terms"
July 1, 2016
Ahmed's deadly and secret chess match against Kublai enters is endgame, even as Kublai's thirst for power grows stronger than ever.
18
"Lost Crane"
July 1, 2016
Kaidu's ruthlessness reaches ne levels in his bid for power, while Hundred Eyes' formerlover has him questioning his loyalties.
19
"Whitehorse"
July 1, 2016
Marco's allegiance to Kublai is tested like never before. Mei Lin's bold move throws Ahmed's plans into chaos.
20
"Heirs"
July 1, 2016
Marco's past with Kokachin resurfaces. Kublai's position as khan faces a final challenge, even as he welcomes a new heir into the world.
21
"The Fellowship"
July 1, 2016
The day of the Kurultai arrives, shaping Kublai's fate as khan. Ahmed makes his final stand, and Marco learns a terrible truth.
Posters
Community content is available under
CC-BY-SA
unless otherwise noted.