Benedict Wong (born 1971) is a British actor. He plays Kublai Khan.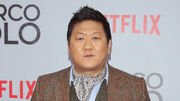 Early life
Wong was born in Eccles, in Greater Manchester, north-west England, to parents who had emigrated from Hong Kong to the UK via Ireland. He was brought up in City of Salford|Salford.
He took a two-year performing arts course at Salford City College, and, while there, worked as an usher at Manchester's now defunct Green Room Theatre.
Career
In 2012, Wong appeared in the highly anticipated film Prometheus
In 2013, it was announced that Wong had been cast in the lead role of #aww: The Arrest of Ai WeiWei at the Hampstead Theatre.Shortly after, the Almeida Theatre announced that Wong had joined the cast of new play Chimerica.
Also in 2013, Wong played the role of gangster Lau in the BBC Two comedy-drama The Wrong Mans.
In 2014, Wong played the role of Kublai Khan in the Netflix series Marco Polo, which on 7 January 2015 was renewed by Netflix for a 10-episode second series.